4th October 2014
Returning to the stage, Jonathon will join the Actor Works Company in a production of Moira Buffini's "beautifully written comedy" Dying For It. Freely adapted from a Russian play that was banned by Stalin in 1929 before its first performance, this "satirical, bitterly funny and tragic farce" will run from 21 October to 8 November at the Brockley Jack Studio Theatre. Tickets can be purchased from the theatre's website (click here), and some behind-the-scenes rehearsal photos have been posted on the Actor Works facebook page (here's a link). Book early before it sells out!
25th February 2014
The new Dark Shadows audio drama has been released today! "The Harvest of Souls" is Big Finish Productions' latest episode, starring original cast member Kathryn Leigh Scott as Maggie Evans and Doctor Who star Colin Baker. Jonathon reprises his role as Collinsport Sheriff Jim Hardy – and is also featured on the CD sleeve! The hour-long audiobook is available now on CD and download.
4th February – 1st March 2014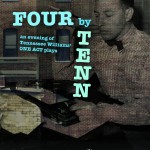 Jonathon stars in Four By Tenn, London Theatre Workshop's celebration of Tennessee Williams, featuring four of the playwright's early short plays. Jonathon is part of a repertory of six actors, who present early drafts of The Glass Menagerie and A Streetcar Named Desire, as well as two lesser known curiosities.

Reviews for the show have been positive, with The Stage calling it "witty and thought-provoking" and The Public Reviews giving it four and a half stars, adding: "A fine cast of six create an experience that's like stumbling across a dusty shoebox in an attic and finding that it comtains four precious gems." Richard Unwin writes for the GayTimes blog:

"Jonathon Marx steals the show … a beguiling performance that does real justice to the text and brings it off the page with panache."

The show runs until 1st March at the Drayton Theatre in Kensington.
10th January 2014
Jonathon starred in the world premiere of German Munoz's new comedy Straying in Seattle. The double-bill features Jonathon as Roger in "Monogamish".

Helena's getting hitched. Charles is doing it differently. And after seven years with Roger, Toby's got marriage on his mind. When Washington State gives the thumbs up to same sex marriage, Roger gets ready to pop the question… But what exactly does he want to ask?

From 28 January until 2 February at the White Bear Theatre in Kennington. Tickets are available (no booking fee!) from the White Bear Theatre website.
30th July 2013
The new Dark Shadows audio drama has been released today! "The Enemy Within" by Will Howells is Big Finish Productions' latest visit to Collinsport and features original cast members Christopher Pennock as Cyrus Longworth and Lisa Richards as Sabrina Jennings. This is Jonathon's second outing as newly-appointed Collinsport Sheriff Jim Hardy. The hour-long audiobook is available now on CD and download.
11th July 2013
The first in a new series of Dark Shadows audio dramas featuring Jonathon Marx as Deputy Sheriff Jim Hardy is now available on CD and download! "Beneath the Veil" by Kymberly Ashman features original cast member Marie Wallace as the malevolent Eve, who develops wicked plans for two out-of-town visitors to Collinsport. "Beneath the Veil" is available via the Big Finish website.
1st June 2013
Following the success of "The Platform", Jonathon has been cast in another evening of short plays, this time at the Drayton Theatre in South Kensington. "Postscript" will be presented on the 9-10 June, and features six new plays from emerging playwrights. Here Jonathon will take a comedic turn as Gregor in "Vauxhall Cross" by Will Howells. Tickets are available via the Skylight Theatre website.
10th May 2013
Jonathon has been cast in The Platform, a "Page to Stage Workshop for New Writing" at the Bread & Roses Theatre in Clapham. The Platform, created to help encourage new writing and showcase emerging talent, will feature five never-before-seen plays over just two nights in May. Jonathon will star in a new play from American playwright Sharon M. Andrews, entitled "Johnny Did Not Come Marching Home", as the titular Johnny, a man haunted by his demons in post-World War II North Carolina. Tickets are available on the Bread & Roses Theatre Company website.
5th May 2013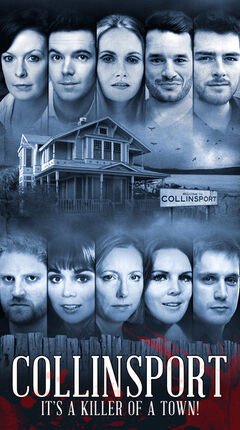 Back in the recording studio! Jonathon is teaming up with Big Finish Productions again for their new series of Dark Shadows audio dramas. Jonathon will provide the voice of recurring character Jim Hardy, Collinsport's Deputy Sheriff who quickly becomes embroiled in many of the town's evil secrets.

The 2013 run will consist of six full-length dramas released monthly between May and October, with the first release, entitled "The Phantom Bride", due out this May. Keep an eye out here for the latest updates and watch (and listen) as Deputy Sheriff Hardy is forced to make some difficult decisions…
1st February 2013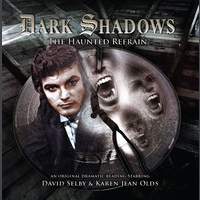 Big Finish Productions' latest Dark Shadows audio drama has been released! Jonathon voices the character of Grant Douglas in "The Haunted Refrain", a spooky new story based on the popular 1960s American soap opera. Visit the Big Finish website to order the CD or digital download. For US listeners, CDs are also available via Amazon.com [click here]. "The Haunted Refrain" stars original Dark Shadows cast member David Selby as Quentin Collins.
4th November 2012
Jonathon has recently lent his voice for a new recording for Big Finish Productions. Big Finish, best known for their Doctor Who audiobooks, also produces a new line of audio dramas for the popular 1960s supernatural soap opera Dark Shadows. Jonathon will be featured as the character Grant Douglas in their upcoming release "The Haunted Refrain", starring original Dark Shadows cast member David Selby. Click here for the Big Finish news release.
26th September 2012
Jonathon was a featured model on the Lorraine Show this morning on ITV1, stripping down to his undies for national television! Sporting the new "All-in-one shaper suit" for men, he made a, ahem, brief appearance in the Fashion segment with presenter Mark Heyes. UK viewers can catch him on the ITV Player here up to a week after the original air date.
15th July 2012
The website for "Fix Your Relationship in ONE Minute" is now live! Check out the Multimedia page and see Jonathon promoting the book (currently available in US Kindle Edition via Amazon.com) in the short film entitled "Chapter 17 – Bad Behavior? Confront Him and Keep Your Self-esteem!" Click here to see the video on YouTube.
1st July 2012
Jonathon will be appearing as Edgar Linton in Myriad Productions' new adaptation of Wuthering Heights at Barons Court Theatre from 11th to 15th July. Details are available via the Myriad Theatre website.
21st February 2012
Anna Karenina is now open at Barons Court Theatre, with Jonathon Marx as Count Vronsky. Tickets can be reserved over the phone, on 020 8932 4747.
Doors open Tuesday – Saturday at 7:15pm, until 3rd March. £12 (£10 concessions).
1st February 2012
Jonathon Marx will soon be appearing as Count Vronsky in the exciting new adaptation of Anna Karenina at Barons Court Theatre, from 21st February to 3rd March 2012.
Full details are available from the Myriad Theatre website and the Facebook event page.
15th November 2011
Jonathon has recently completed a successful run at The Lord Stanley in a new stage adaptation of One Flew Over the Cuckoo's Nest, which ran from 19th October to 13th November 2011.