4th October 2014
Returning to the stage, Jonathon will join the Actor Works Company in a production of Moira Buffini's "beautifully written comedy" Dying For It. Freely adapted from a Russian play that was banned by Stalin in 1929 before its first performance, this "satirical, bitterly funny and tragic farce" will run from 21 October to 8 November at the Brockley Jack Studio Theatre. Tickets can be purchased from the theatre's website (click here), and some behind-the-scenes rehearsal photos have been posted on the Actor Works facebook page (here's a link). Book early before it sells out!
25th February 2014
The new Dark Shadows audio drama has been released today! "The Harvest of Souls" is Big Finish Productions' latest episode, starring original cast member Kathryn Leigh Scott as Maggie Evans and Doctor Who star Colin Baker. Jonathon reprises his role as Collinsport Sheriff Jim Hardy – and is also featured on the CD sleeve! The hour-long audiobook is available now on CD and download.
4th February – 1st March 2014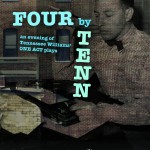 Jonathon stars in Four By Tenn, London Theatre Workshop's celebration of Tennessee Williams, featuring four of the playwright's early short plays. Jonathon is part of a repertory of six actors, who present early drafts of The Glass Menagerie and A Streetcar Named Desire, as well as two lesser known curiosities.

Reviews for the show have been positive, with The Stage calling it "witty and thought-provoking" and The Public Reviews giving it four and a half stars, adding: "A fine cast of six create an experience that's like stumbling across a dusty shoebox in an attic and finding that it comtains four precious gems." Richard Unwin writes for the GayTimes blog:

"Jonathon Marx steals the show … a beguiling performance that does real justice to the text and brings it off the page with panache."

The show runs until 1st March at the Drayton Theatre in Kensington.
Prior to 2014
Older news now on a new page.